Sexy Bartender
Get One Of Our Studs To Make You Drinks!
If you're looking for something a little bit more low-key, then perhaps a sexy male stripper bartender can do the trick. Our hunks can stand there and serve your drinks all night long. Don't want all the wild and crazy moves that they do in the male strip shows but still want a sexy guy on deck? Book your sexy bartender today and he will be shirtless and making you drinks while you party with your friends. Our steamy male strippers are in high demand when it comes to bartending so be sure to reserve one as soon as possible!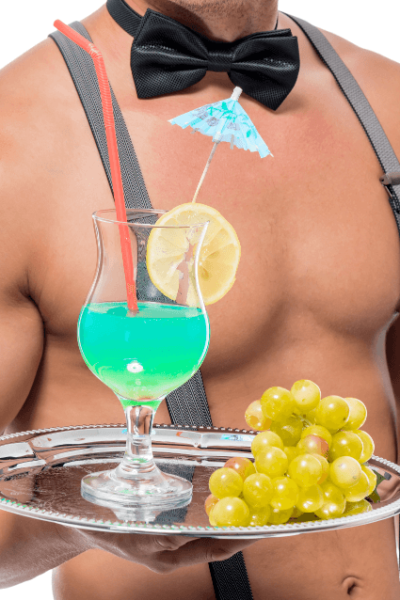 New York's hottest topless bartenders are waiting for you here at Exotique Men! If you have not tried booking a topless waiter before, then now's the time to experience the warmth and attention only our exotic bartenders can give!
Regular party conversation topics can get boring, but our sexy bartenders will make you want to stay for a fiery night and can even urge you to keep coming back. While you're enjoying yourself in our spectacular shows, our smokin' hot bartenders will serve your favorite cocktails. Or, you can always reserve a private bartender to your next event!
Armed with stunning looks and magnetic charisma, our sexy bartenders are servers and entertainers combined. While you feast your eyes on their perfectly-sculpted 6-pack abs, they'll mingle with you, refill your champagne glasses, and ensure all your needs are attended to.
Expect first-class service from our charming and talented bartenders! As you enter our famous male strip club you and your friends will be welcomed by our friendly hot and talented staff, ready to spoil you with all their attention. Our sexy bartenders will amaze you with their sexiness and professionalism, not to mention their flirtatious looks and attractive smiles.
If you'd like to know more how our Sexy Bartender package works, contact us today and we'll be right with you to answer all your inquiries!